الرجاء استخدام زر الترجمة بالاسفل لترجمة المقالة من اللغة الانجليزية
Are you looking for the best workout apps that will help you build healthier routines? If you don't really like the idea of working out right in front of other individuals or prefer exercising at home, these workout applications will work for you. They are also perfect for those who do not have the money and time to hire and work with a personal trainer.
The truth is that several roads lead to personal fitness. But the most innovative of them all reside in your smartphone. And you don't even need to buy super-expensive workout equipment in order to make use of these fitness applications.
There is an app for every physical activity such as yoga poses, strength training, daily runs, high-intensity interval training (HIIT), etc.
Apps dedicated to these activities will help you carry them out as perfectly as possible. And you may even find some apps that help you eat more nutritiously than you used to. You can also plan your meals using these workout applications.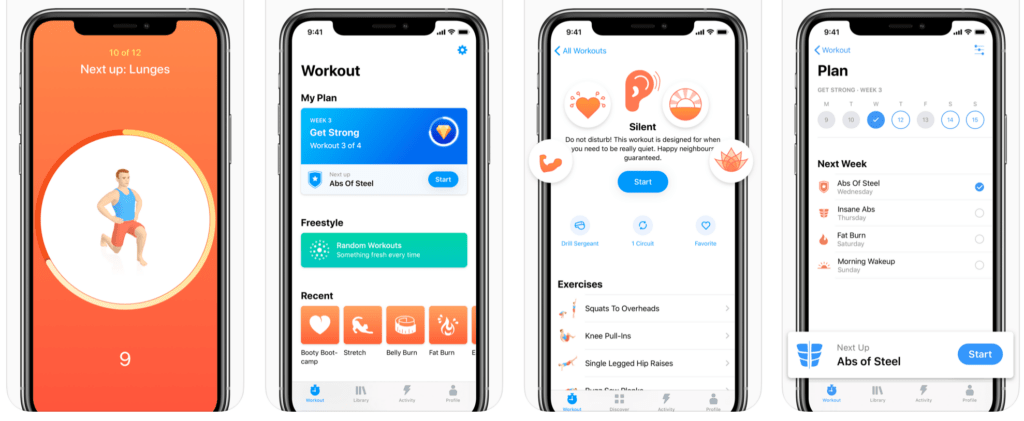 Factors to Consider When Choosing a Workout App
Not all fitness applications are created equal. This means some of them are more equal than others, no pun intended. And you can easily be overwhelmed by the myriads of fitness apps options on the App Store and Google Play Store.
Moreover, many of these fitness apps require users to subscribe weekly or monthly. And that is the last thing anyone wants to do.
Therefore, consider these factors before making your decision on the fitness app to go for:
Do you need an application that sends you reminders daily?
Do you need a fitness community that will motivate you?
Do you want to be able to track your progress as you strive towards a bigger goal?
Do you want to check in with a fitness coach from time to time?
Do you need a subscription that will keep you on your toes?
Do you want to be able to unlock achievement as soon as you reach a particular milestone?
Answers to these questions will help you decide which fitness app to go for. The features you need in a fitness app should be prioritized when searching for the right app in the respective stores.

Here are the top 5 workout apps:
This app is excellent for overall fitness routines.
Free version?: Yes, but limited
Devices: iOS, Android
Price: $14.95 monthly
This app motivates users since it donates swiftly to charity for each mile of activity you log in.
Devices: iOS, Android
Price: Free
This application is perfect for beginners since its workouts are customizable and grants you access to experts.
Free version: No
Devices: iOS, Android
Price: $5 monthly
This app features several varieties of short workouts backed by science and aimed at obtaining maximum benefits.
Free version: Yes, but limited
Devices: iOS, Android
Price: $9.99 monthly or $79.99 per annum
This app offers more than 100 unique sessions based on different parts of the body.
Devices: Android, iOS
Price: Free to download but comes with in-app purchases

Conclusion
These workout apps will help you reach your fitness goals sooner than you think. And you will always leave your friends in awe when they see your healthy body.